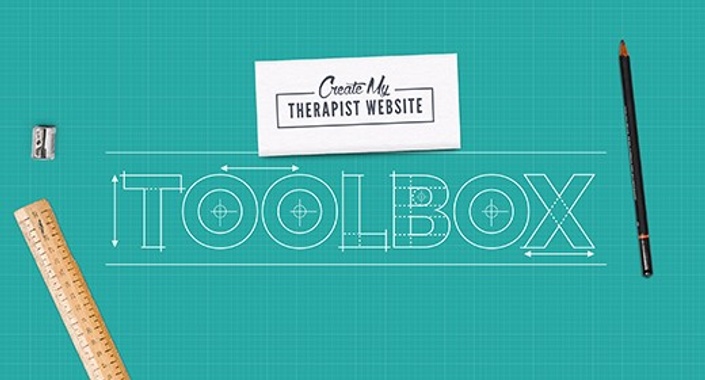 The Create My Therapist Website Toolbox
Confidently Build Your Own Private Practice Website From Start to Finish... Even if you "lack the technical know-how".
Enroll in Course
Does This Sound Familiar?
You went to school, got your degree and have stepped boldly into the world of private practice…
But they didn't teach you online marketing and web design in grad school…
And since you're just starting out, it's hard to justify paying thousands of dollars for someone to design a website…
You're confident when working with people, but all confidence seems to melt away when working with technology…
So you scrape together a website with the simplest tools you can find, or worse yet, don't even begin the project…
Now you're frustrated because it's difficult to get clients without the proper marketing and you have no clue how to build the website you want and estimates to have one built are just too darn expensive for you at this stage in your business.
Introducing The Create My Therapist Website Toolbox
The step by step training that:
Will leave you with a pro-quality website that you're proud of – one that attracts clients and reflects you and your private practice

Holds your hand through the tech setup of a WordPress website and all the settings that make us non-techy folks run and hide

Provides you with a clear roadmap with EVERY step needed to create a professional-looking website so you know exactly what you need to do and when to do it

Saves your hard-earned cash by teaching you how to confidently make web pages and blog posts yourself instead of hiring costly website designers and developers

Saves you valuable time by including only the essential steps needed to launch your practice online, keeping you from endless hours of Googling for help

Gives you access to a web designer with over 15 years of experience, ready to answer your questions and keep you from getting stuck
Here's How It All Breaks Down:
MODULE 1: SETTING THE FOUNDATION
You'll create a solid foundation for your private practice website picking a hosting provider and setting up your account. You'll choose a great domain name for your website that reflects yourself and your business. I'll demystify WordPress – the framework of your site – what it is and how to install it on your new hosting account.
MODULE 2: WORDPRESS THEMES
We'll discuss WordPress themes and how they can put you on the fast-track to a pro-quality website. With THOUSANDS of themes to choose from, I'll break dow what makes a great WordPress theme and how you can choose the perfect one for your private practice website. You'll avoid rookie WordPress theme mistakes and steer clear of the themes that will waste your time and give you more grief.
MODULE 3: GETTING TO KNOW WORDPRESS
Get a guided tour of the WordPress dashboard and understand the important aspects of every single part of it. Learn only the settings you need to know to help you avoid getting overwhelmed and keep things simple.
MODULE 4: ALL ABOUT CONTENT
You'll set goals so you're constantly moving forward, filling in your website with great info that will attract clients. You'll learn how to create specific web pages on your new website. I'll show you how to include client forms and create links to them in your menu. I'll also give you a run down on SEO so you'll know what's important, where to put keywords and what you need to include when creating content.
MODULE 5: MARKETING YOUR NEW WEBSITE
I'll give you an inside scoop on the resources and tools I use to market my own business as well as my wife's private practice. I'll share with you the benefits of blogging, how you can consistently add useful posts to your website and give you tips to get your posts read. We'll also talk all about therapy directory sites, social media tips, and how to get started with building an email list.
EXTRA CREDIT MINI-LESSONS
I'll show you how to set up your own professional looking email address using your new website's domain. You'll also learn how to back up and restore your WordPress website so you don't have to worry about ever "breaking" it.
All the Resources You'd Need to Keep You Moving Forward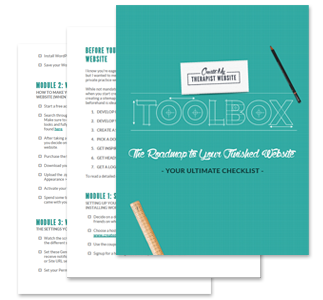 The Roadmap to Your Finished Website
The ultimate checklist to walk you through the entire website-building process and keep you organized. Print it out and check off every task along the way to create momentum and know exactly where you left off after each lesson and what you need to do to launch your private practice website.
---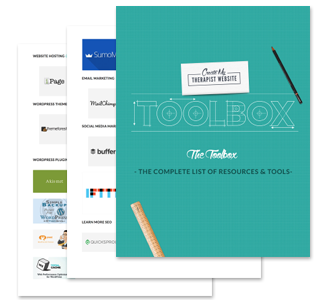 The Complete Tool & Resource Guide
You'll also get my personal toolbox: your online tool and resource guide. In this guide you'll find every single resource that I use to create websites as well as promote them. What I use for hosting, WordPress themes, which WordPress plugins I can't live without, as well as tools for social media, SEO and graphic design help. Any tool mentioned in the course can easily be found here.
---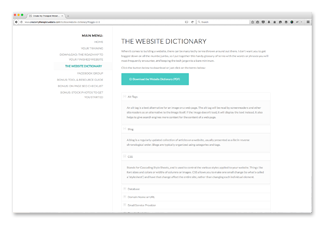 The Website-Building Dictionary
When it comes to building a website, there can be many techy terms thrown around out there. I don't want you to get bogged down on all the mumbo jumbo, so I put together this handy glossary of terms with the words or phrases you will most frequently encounter, and kept the tech jargon to a bare minimum. Access it any time to avoid confusion and keep moving forward.
---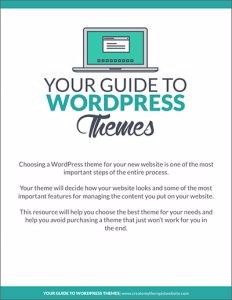 Your Guide to WordPress Themes
Choosing a WordPress theme for your new website is one of the most important steps of the entire website-building process. It's also one of the most confusing.
This resource will help you choose the best theme for your needs and help you avoid purchasing a theme that just won't work for you in the end. It covers a list of terms you'll come across when choosing a theme, plus tips on how to make sure you invest in a great theme for your private practice website.

---
TOTAL VALUE: $174
And to make sure you're supported every step of the way, you'll also get these awesome bonuses: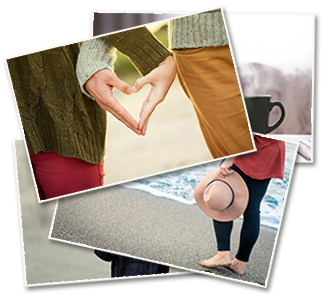 Bonus 1:
Professional Stock Photography Package
One of the most important parts of having an awesome website is professional looking photography, and I've got you covered. I've collected 75 beautiful stock photos you can use on your new private practice website. You can use these professionally shot photos for landing pages, blog posts, social media or whatever!
You'll save you tons of time by not having to search all over the web for the right shots.
---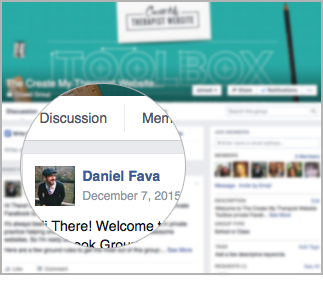 Bonus 2:
Private Facebook Group
I know what it feels like to try and figure out everything on your own and how frustrating that can be.
That's why you'll have access to a community of support via a private Facebook group. You'll find invaluable support in there as you:
Ask questions and quickly troubleshoot the big and little issues that eventually pop up when creating your website.
Get feedback on every aspect of your new website from other students.
Get an extra set of eyes on your website as you take it from creation phase to launch.
Find inspiration and encouragement from a community of colleagues working toward a common goal.
Beth's Experience: From Lackluster to Filling Her Practice

"Before joining the CMTW Toolbox, I had paid LOTS of money over the years to a large therapist website provider. Even though I paid a high monthly fee to host my website, the site never really reflected me. No matter how I tried to tweak it, I never actually liked my old website. It took tons of time and frustration just to make lackluster changes. The result was still an outdated, boring website.
Although at first I was intimidated to try to build my own website, Daniel's course kept me organized, helped me manage my overwhelm and gave me the confidence I needed to launch a fantastic WordPress website that really reflects who I am as a professional.
I finally have a website that feels more like me and introduces me and my practice to my ideal potential clients in a way that authentically connects with them. It helps develop a relationship with clients even before we've had a chance to talk.
It's worked so well I've recently had to shut down my 'Schedule An Appointment' button on the website because so many new clients are scheduling with me that I'm running out of room for my current clients!
This course has definitely paid off for me, and I'm excited to keep learning!"
- Dr. Beth Schmit, Ph.D., Licensed Psychologist, Portland Oregon, http://www.drbethschmit.com
Join The Create My Therapist Toolbox Today:
Here's what you'll get:
The FULL Create My Therapist Website Training Course: Priority access to all 5 Modules with downloadable videos, slides, cheatsheet/resources and audio. Value – $2997
Downloadable resources and checklists, including the ultimate website-building checklist, "Your Roadmap to Your Finished Website" to keep you moving forward. Value – $174
BONUS #1: Instant access to the private Facebook group where you can ask questions, get feedback and connect with me and other students going through the training. Value – $447
BONUS #2: A pack of 75 professional stock photos to help you get started and fill your website with eye-catching imagery. Value – $47
WHEN YOU ADD THAT UP, THAT'S A TOTAL VALUE OF $3665.
And that doesn't include the future resources and extra support you'll get with access to the course.
But because I'm super excited to welcome you into this training and see you take your private practice to a new level, I'm giving you the opportunity to join for just…
Sign Up Now For Instant Access!
What has been stopping YOU from building your own website and getting the clients you deserve?
Maybe you think you don't have the technical know-how to create a website...

Or maybe the massive amounts of information out there for building a website that attracts clients makes your head spin...
Or perhaps you just don't have the time or the resources to figure it all out on your own... you need to attract clients NOW...
Before, you would either have to hire a web designer like myself and pay thousands for your website, or spend months searching the internet for answers and trying to figure out how to do it on your own.
Now, with The Create My Therapist Website Toolbox, I will walk you through the exact process of building your own website using WordPress, start to finish. You'll save time and precious energy as I guide you through the entire process, and you'll avoid overwhelm as I show you exactly what to do and what not to do.
When you finish this course you'll have a professional looking website that converts potential clients into paying ones, a new-sense of freedom when it comes to your online marketing as you learn to easily make future updates, and a more complete understanding of how to market your private practice online. You'll be able to get back to doing what you love to do: helping people.
Create your own private practice website, without the headaches.
As a reminder here's what you'll get when you enroll:
As soon as you purchase, you will get immediate access (via user name and password) to The Create My Therapy Website Toolbox.
This includes lifetime access and login 24/7 to the following: (it is all digital + downloadable so you can login to access the content or download the course and take it on the go with you)
5 easy to follow, step-by-step modules

11 screen recordings to look over my shoulder as I teach

2 extra-credit mini lessons

My extensive tool belt of resources and services

The "Roadmap to Your Finished Website", the ultimate checklist

The website dictionary

The Guide To WordPress Themes

BONUS 1: Private Facebook group

Get the support and inspiration you need from myself and other students creating their private practice website.

BONUS 2: Professional stock photos package

75 beautiful photos to kick-start your website.

Content is available in video + slides (.MOV), audio download (.MP3) and slides (.PDF)


30 day money back guarantee
Your Instructor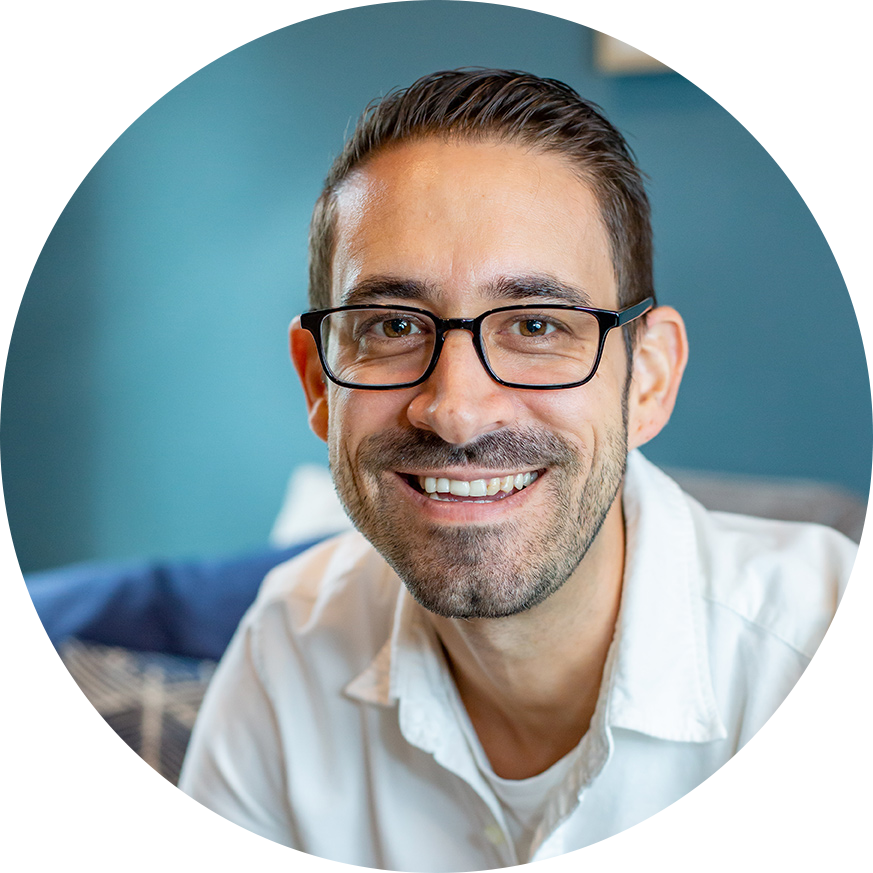 Founder of Create My Therapist Website and Private Practice Elevation. My team and I help therapists and private practice owners increase their visibility and attract more clients through elevated website design and SEO services.
When my wife was first starting her private practice back in 2011, I jumped into action and built her website using WordPress. We saw first-hand how important it was to have the right kind of content on her website in order to get her ideal clients to show up to it month after month.
So it became my mission to help other practitioners do the same with their own websites, providing simple tools and training to market a practice online and fill up their calendar with clients they love.
At Private Practice Elevation, we imagine a world where every private practice owner can reach the clients they love, expand their impact and build the business and life of their dreams. When our clients succeed, they can help even more people who need mental health services.
Because of that, I belive our work can literally help save lives.
Featured on



Is this course right for me? Meaning, will it "work" for me?
Everyone's situation is a little bit different and of course I can't guarantee the same results for everyone, but I can give you the exact blueprint for success along with all the tools and strategies and step-by-step guiding.
With that being said, this course is right for you if:
You've been trying to build a private practice for a while but find it's difficult to get clients without proper marketing and have no clue how to build a website
You're just starting out in private practice and you know you need a website but estimates to have one built are way too expensive for you at this time, so you need some guidance on how to do it yourself
You've wanted to create your own website but got tired, frustrated and overwhelmed by taking on the process alone
You want to create an awesome website, but fear due to lack of technical know-how is getting in the way
You have a real desire to learn and implement and are not afraid to put in the work required to create your own website and take charge of your online destiny
This course is DEFINITELY not for you if:
You are expecting overnight results with very little work or effort involved. While I lay out the entire website creation process for you, I cannot do the work for you. I can give you guidance and strategies on how to create web pages, but I can't write your copy or blog posts. I can, however, save you hours of time by giving you the entire system, which is another benefit to this course.
You're not nice and have a bad attitude. This course is for folks who want to work together to push each other forward into website and private practice success. If you don't want to play nice and can't give and receive feedback you may want to go elsewhere.
You already have a website for your practice and are just in need of private practice marketing advice. While I touch on some marketing tips, like SEO and social media, this course's main focus is the website building process. If you just want to learn online marketing for private practice, there's tons of other folks out there who can teach it far better than I can.
Jayashree's Experience:
From Frustration to Freedom

"I was incredibly frustrated and needed somebody to walk me through the process of updating my outdated WordPress website. I just wanted someone I could talk to and show me how to use WordPress.
If you ask me, Daniel IS the course! Having access to Daniel and this course made it all come together incredibly fast. Now my website is up to date and more focused on my niche.
If you need a website, I highly recommend this course!"
- Jayashree George, Licensed Marriage and Family Therapist, Emporia, Kansas - http://hearttohearttherapist.com
Sign Up Now For Instant Access!
Frequently Asked Questions
When does the course start and finish?
The course starts now and never ends! It is a completely self-paced online course - you decide when you start and when you finish.
What if I already have hosting/domain name? Is this course still for me?
This course is for anyone in private practice starting out with WordPress. While this course starts with the process of setting up a hosting account and a domain name, you can certainly use the hosting account or domain you already own. You would begin the course by installing WordPress and choosing a theme. If you own a domain you want to use with your new website, I'll give you some resources to help you link up your domain name to your hosting account once your website is complete.
What is the investment?
You've got 2 options when it comes to payment: A one-time payment of $397 (18% savings!), or 5 monthly payments of $97 (one payment today of $97, then four more monthly payments of $97)
How long do I have access to the course?
How does lifetime access sound? After enrolling, you have unlimited access to this course for as long as you like - across any and all devices you own.
What is the refund policy?
I've invested hundreds of hours of blood, sweat, and tears into The Create My Therapist Website Toolbox, along with thousands of my own dollars and over 15 years of website-building experience in order to deliver a quality product. But I do understand that some people may not appreciate what I've created, or it may just not be a right for you. That is why I'm offering 30 days to see if the course is right for you. If the program is not a good fit, just let me know so I can refund your money immediately.
If I choose the payment plan and get started for just $97, do I have access to the entire course, or just a portion until I make all my payments?
When you choose the payment plan of 5 monthly payments at $97 you will get access to the entire course, bonuses and resources. All of it. I want to see you get started on your website, so I trust you'll follow through with the payments as you go through the course and kick online butt.
You said the course is step-by-step, is it really step-by-step?
It sure is! It is a literal "do this then that" scenario. Each module builds on the one before it to walk you through having no website to having a killer website and being able to create your own content whenever you like and promote it online. I give you a lesson (with slides) and then have you "look over my shoulder" with screencasts as I execute the actions discussed in each lesson. This way you can see exactly what I'm talking about, where to click, and what's what.
What if I have a question that was not addressed on this list or on any of your other marketing material?
You can email
[email protected]
with any questions and I'll do my best to answer them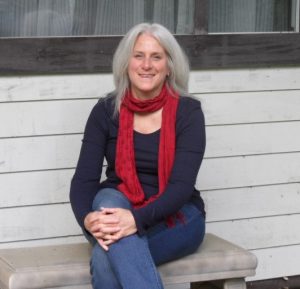 "I signed up for the CMTW Toolbox because I am new to Private Practice, and since building websites is not my strength or passion, I needed some help. The course was thorough and a great resource to return to. Daniel helped me along the way to answer my questions and provide additional support, feedback and direction through Skype and the private Facebook group. I highly recommend this resource if building a therapy website!"
- Karen Hardy - karenhardycounseling.com
Sign Up Now For Instant Access!