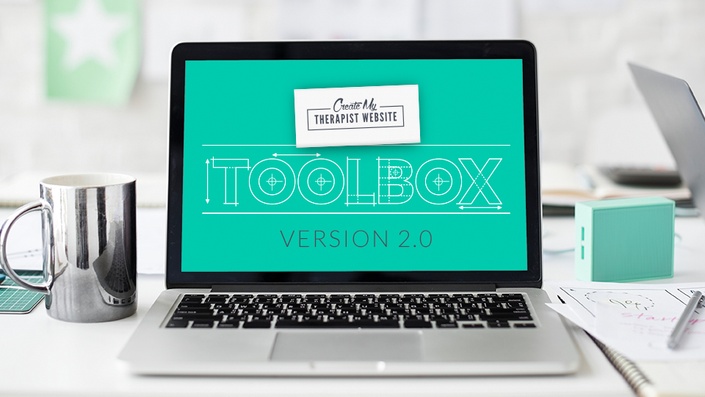 The Create My Therapist Website Toolbox 2.0
Confidently Build Your Own Private Practice Website From Start to Finish... Even if technology makes you want to run and hide.
Access to $1077 worth of bonuses ends in:
Do your hands get clammy and does your heart begin to race when potential clients ask to see your website?
You know, the one that looks like it's from 1999 and is a horrendous representation of your modern, progressive practice.
Embarrassed you give them the web address and promise yourself for the 1500th time you're going to figure out how to update it.
But they didn't teach you online marketing and web design in grad school…
You know that when you sit down in your office, face-to-face with your clients, you're an empathy master. You can hold the space for any story you hear no matter how shocking, horrifying or hilarious. And, at the end of the day, you can confidently say you've helped people.
But when it comes to sitting down at your desk, face-to-face with your computer screen it's a whole different story. Your keys clack and your mouse clicks, but you have to admit that you have no idea what you're doing.
So you've scrape together a website with the simplest tools you can find, or worse yet, put it off again until the next potential client asks for your web address.
Now you're frustrated because your website, or lack thereof, fails to represent you and the practice you love and is not bringing you clients.
You know this needs to change, but you have no idea how to build the website you want yourself and hiring it out is not an option at this stage of your business...
INTRODUCING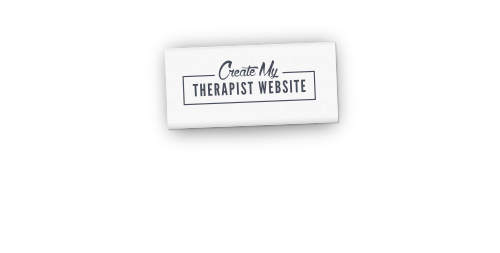 The step by step training that:

Holds your hand through the setup of a WordPress website and all the settings that make you run and hide so you can create a website fear-free

Provides you with a clear roadmap with EVERY step needed to create a client-attracting website so you know exactly what you need to do and when to do it, helping you avoid the long, frustrating hours spent in a Google rabbit-hole

Literally gives you an over-the-shoulder view of my webpage-building process so you can rest-assured that the pages you create will convert visitors into clients even while you sleep

Saves your hard-earned cash by teaching you how to confidently make web pages and blog posts yourself instead of hiring costly website designers and developers

Saves you valuable time by including only the essential steps needed to launch your practice online, so you can focus your time more on the activities in your business that you love

Gives you access to a web designer with over 15 years of experience, ready to answer your questions and keep you from getting stuck


Will leave you with a pro-quality website that you're proud of – one you can finally share without a hint of embarrasment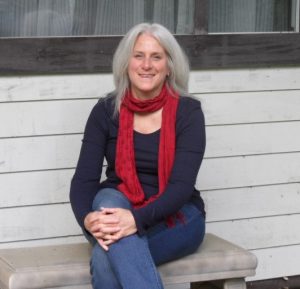 "I signed up for the CMTW Toolbox because I am new to Private Practice, and since building websites is not my strength or passion, I needed some help. The course was thorough and a great resource to return to. Daniel helped me along the way to answer my questions and provide additional support, feedback and direction through Skype and the private Facebook group. I highly recommend this resource if building a therapy website!"
- Karen Hardy - karenhardycounseling.com
The Core CMTW Toolbox Training Program:
6 Video Modules
Each module contains step-by-step video tutorials that will teach you the strategy behind an effective website, screen recordings that show you exactly how to put the lesson into action and resources to get to the finish line even faster.
I've taken care of organizing all your training so you can get right to building your website without getting bogged down with info or getting distracted along the way. Everything you need is conveniently located in one place. Just log into the course and start working.
8 PDF Resources
You'll get 8 downloadable checklists, worksheets and guides that will help you create content, define your ideal client and build web pages. These downloads will keep you moving forward as you blast past any website-building stress and save you tons of time as you create your website.
Plus These Launch Bonuses
$1077 FREE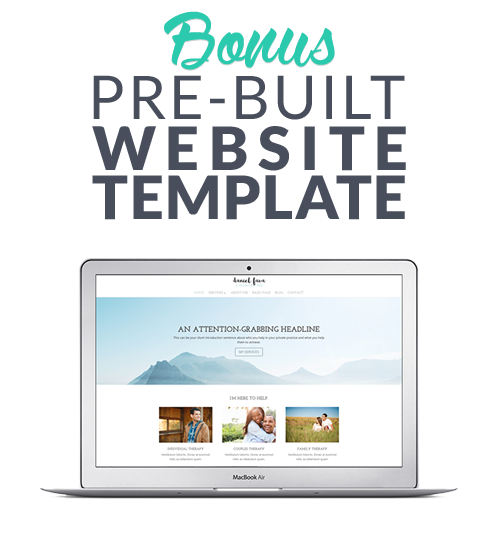 BONUS #1:

My Pre-Built Divi WordPress Theme Templates
Build your website in no time with page layouts that have been designed for you, using the Divi WordPress theme. These are the same designs I use with some of my one-on-one clients. They're yours - free of cost and free of time-wasting frustration, pulling out your hair and screaming at the computer as you build your website.
Value: $150
---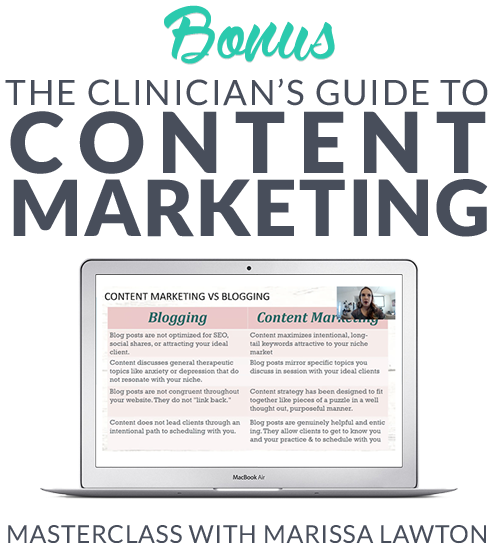 BONUS #2: Guest Expert Training
Masterclass with Marissa Lawton
Learn how to take your new website and create content that your ideal client LOVES.
Marissa will give you a roadmap to creating strategic content and making sure that the people you want to reach actually see it.
Value: $200
---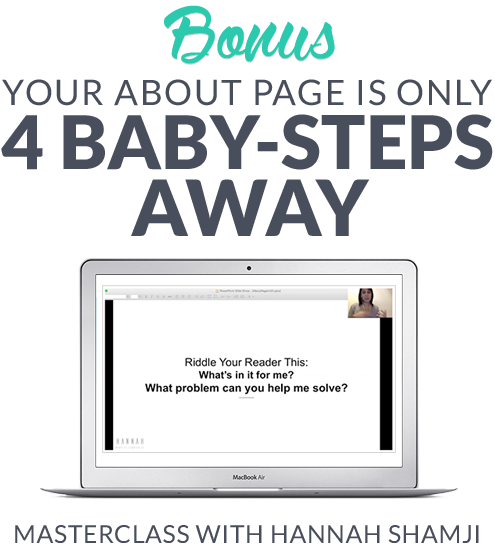 BONUS #3: Guest Expert Training
Masterclass with Hannah Shamji
Hannah Shamji, a conversion copywriting expert, gives you her easy-to-implement About Page framework (that's proven!)!….
Plus, bonus writing tips to save you time and avoid a string of expletives as you sit down to write your copy.
Value: $200
---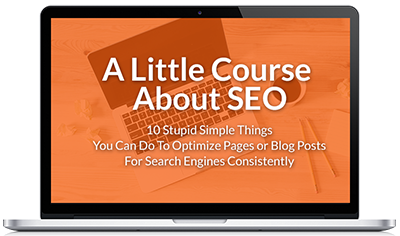 BONUS #4:
Free Access to A Little Course About SEO
I'll give you free access to my training, A Little Course About SEO, where you'll learn 10 crucial things you can do to help boost your page rank in Google.
We'll make sure more of your ideal clients can find you easily online and you can breathe a sigh of relief knowing you correctly optimized each page and blog post for search engines.
Value: $29
---
BONUS #5:
Private Facebook Group
You're not alone on this website-building journey. You'll get instant access to the private Facebook group where you can ask questions, get feedback and connect with me and other students going through the training. This community will help you get answers to questions quickly and give you encouragement and accountability to get you to the finish line.
Value: $349
---
BONUS #6:
Stock Photo Package
Using high-quality photos on your website will help you stand out and I've got you covered. I've collected 75 beautiful stock photos you can use to build your new website. You'll save you tons of time by not having to search all over the web for the right shots.
Value: $99

MODULE 1: What To Do Before You Begin Your Website

Most therapists don't know where to start when building their own websites. Well, we'll start with the work you have to do BEFORE anything else. You'll learn what needs to be done first, in order to save time later on.
How to clarify who your ideal client is so that you can keep yourself from staring at a blank screen, unsure of what to write
How to craft a homepage title that grabs your target audience's attention and keeps them from bouncing off your website so that you can increase your chances of converting them into paying clients
All the assets you'll need to gather (and how to do it) before working on your website so that you'll have ALL you need to start building and make the project go faster
MODULE 2: Setting Up Your Hosting Account & Purchasing a Domain
You'll create a solid foundation for your private practice website picking a hosting provider and setting up your account. I'll demystify WordPress – the framework of your site – by showing you what it is and how to install it on your new hosting account.
How to choose the right domain name for your website and establish your practice as a brand
The difference between WordPress.com and WordPress.org and which one to avoid
How to set up your hosting account and install WordPress in less than 20 minutes so you can finally start building a website that represents you and the practice you love
MODULE 3: How To Actually Use WordPress
Confused by the WordPress dashboard? This is your guided tour of WordPress. I'll break down every section of the WordPress interface understand what it all does and how to use it.
Learn the settings you need to know so that you can avoid wasting time on the stuff that doesn't apply to a thriving therapy practice
Learn exactly how to upload images, create blog posts, create pages and edit your entire website so you'll be confident throughout the creation process
MODULE 4: Getting Started With Your WordPress Theme
Choosing the right WordPress theme is a challenge for most therapy practices. With the CMTW Toolbox, you won't get lost in a sea of themes that will waste your time and leave you with no support. That's because we'll focus on just ONE WordPress theme, Divi, and I'll show you exactly how to get started.
Learn what types of WordPress themes you MUST avoid so that you don't waste your time and end up pulling out your hair
Why Divi is the ONLY theme I use with all my web design clients (hint: their page builder is the best)
How to install your theme and customize your website to fit your brand and the right mood you'll want in order to attract your ideal clients and fill your caseload
I'll give you design tips on choosing the right fonts and a color palette so you can confidently share your website with potential clients
MODULE 5: Building Web Pages, Creating Content & Attracting Clients
Attracting more clients is ALL about content. You'll learn how to literally create the most important web pages you'll need on your new website. Not only will I give you my strategy for each page, I'll show you how to actually lay out each page like a pro designer.
What 5 major mistakes I see therapists make on their homepages and how to avoid them
A formula you can follow to write your About page content (one of the MOST important pages on your site) so that you can attract your ideal client
The types of pages that are SEO gold and how they can attract more clients to your website, show off your expertise and get found on Google over and over again
MODULE 6: Marketing Your New Website
Building a website is one thing, but getting your clients to actually visit it is whole other ball game. This module is all about what to do AFTER you launch your new website in order to grow your traffic (and your client load).
You'll learn about the benefits of blogging and how to consistently publish articles that bring in more traffic, more leads and more scheduled clients
The secrets to ensuring that visitors actually read your blog posts and are motivated to know more about you
My best advice for using social media that will remove the voice in your head that says "you've got to do it all!" and frees up your energy to focus on the one(s) that get you results
Tips for using Facebook, Twitter and Pinterest to grow your traffic and how you can automate the posting process and save heaps of time
How to simply use Google Analytics and the essential metrics to track so that you can use your website strategically, so you know what's working and not have to waste time on what's not

The FULL Create My Therapist Website Training Course: Instant access to all 6 Modules with downloadable videos, slides, cheatsheet/resources plus live group support sessions. Value – $2997
Downloadable resources and checklists, including the ultimate website-building checklist, "Your Roadmap to Your Finished Website" to keep you moving forward. Value – $232
Option for 4 Live Group Support Sessions: We'll make sure you don't get stuck. Value - $500 yours for $100
BONUS #1: My Pre-Built Divi WordPress Theme TemplatesValue – $150
BONUS #2: The Clinician's Guide to Content Marketing - Masterclass with Marissa Lawton Value – $200
BONUS #3: Your About Page Is Only 4 Baby-Steps Away - Masterclass with Hannah Shamji Value – $200
BONUS #4: Free Access to A Little Course About SEO Value – $29
BONUS #5: Private Facebook Group Value – $349
BONUS #6: Stock Photo Package Value – $99
WHEN YOU ADD THAT UP, THAT'S A TOTAL VALUE OF $4756.
And that doesn't include the future resources and extra support you'll get with access to the course.
But because I know that one of your hang-ups to having a beautiful website is the cost of hiring a designer, I'm offering my expertise for just…
This course is closed for enrollment.
All the Resources You'd Need to Keep You Moving Forward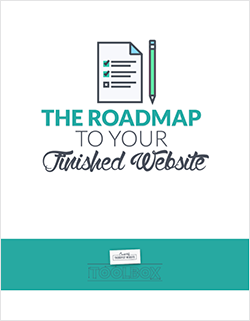 The Roadmap to Your Finished Website
Don't know where to begin when building a website? This is the ultimate checklist to walk you through the entire website-building process and keep you organized. Print it out and check off every task along the way to create momentum and know exactly where you left off after each lesson and what you need to do to launch your private practice website.
---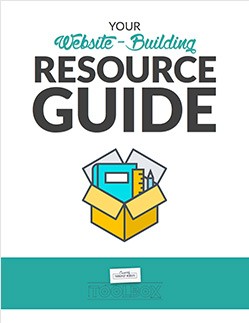 The Website-Building Resource Guide
We'll use a few of my favorite tools to create your website and this guide will keep track of all of them for you. Any tool mentioned in the course can easily be found here to save you time and keep your head from spinning.
---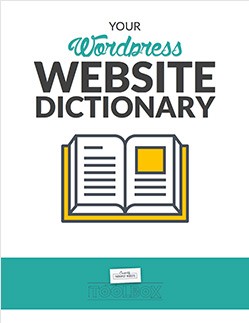 The WordPress Website Dictionary
When it comes to building a website, there can be many techy terms thrown around out there. I don't want you to get bogged down on all the mumbo jumbo, so I put together this handy glossary of terms with the words or phrases you will most frequently encounter, and kept the tech jargon to a bare minimum. Access it any time to avoid confusion and keep moving forward.
---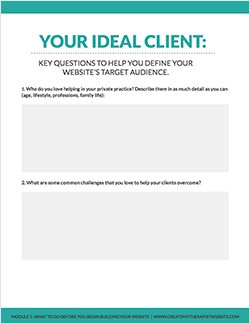 Defining Your Target Audience (Ideal Client) Worksheet
Writing website content is a heck of a lot easier when you know WHO you're talking to. This worksheet will help you answer some key questions about your target audience so that you can save time and craft strategic copy for each of your website's pages and rest assured that your website will be helping you fill your caseload with the clients you love.
---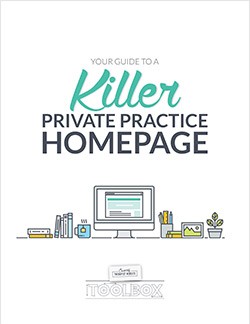 Your Guide to a Killer Private Practice Homepage
Your homepage serves one purpose… to get your visitor to the NEXT page. In this guide I'll break down what goes into an effective homepage design so that you know exactly what elements to include in (and leave out of) your own homepage. You can sit back and relax knowing that you don't have to be embarrassed about handing out your URL to potential clients.
---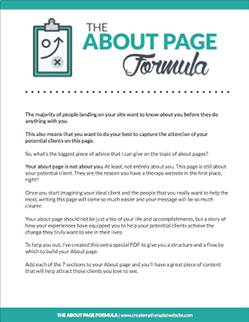 The About Page Formula
Did you know that your About page is one of the MOST visited pages on a private practice website? So it's crucial that you make this page stand out and get the attention of your ideal client… and lead them to convert. An effective About Page follows a certain formula and I'm giving it right to you. You'll know exactly what to include on this essential web page so you can feel relieved knowing that your About Page is designed to convert visitors into clients.
---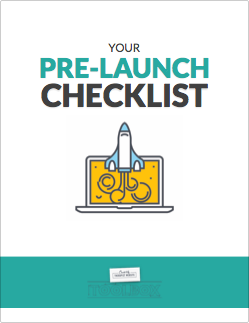 Your Pre-Launch Checklist
Your website is GO for launch… or is it? This checklist will help you determine whether your website is ready for the world by giving you all the final steps you'll need to take prior to opening for business. Pat yourself on the back because you've finished your website and you can finally relax because you KNOW it's ready to start bringing in the clients.
---
Your Post-Launch Checklist
Now that your website is live, what happens next? This resource lays out the next steps you can take to start attracting traffic and begin using your website as your most powerful marketing tool - one that will bring you new clients while you're in session doing the work you love.
---
TOTAL VALUE: $232

"I was incredibly frustrated and needed somebody to walk me through the process of updating my outdated WordPress website. I just wanted someone I could talk to and show me how to use WordPress.
If you ask me, Daniel IS the course! Having access to Daniel and this course made it all come together incredibly fast. Now my website is up to date and more focused on my niche.
If you need a website, I highly recommend this course!"
- Jayashree George, Licensed Marriage and Family Therapist, Emporia, Kansas
This course is closed for enrollment.
A lack of confidence has been stopping you from building your own website and getting the clients you deserve.
Maybe you think you don't have the technical know-how to create a website...

Or maybe the massive amounts of information out there for building a website that attracts clients makes your head spin...
Or perhaps you just don't have the time or the resources to figure it all out on your own... you need to attract clients NOW...
You've poked around at your site for months. Sure, you've managed to resize an image and move a button, but the results you're getting on your own are not taking your website to the level you want it to be.
It's getting to the point where you're wondering how to juggle enough bills to be able to afford that high-priced designer, unless you find a solution that walks you through exactly what you need to do to build a website quickly.
With The Create My Therapist Website Toolbox, I will walk you through the exact process of building your own website using WordPress, start to finish.
You'll save time and precious energy as I guide you through the entire process, and you'll avoid overwhelm as I show you exactly what to do and what not to do.
When you finish this course you'll have a professional looking website that converts potential clients into paying ones, a new-sense of freedom when it comes to your online marketing as you learn to easily make future updates, and a more complete understanding of how to market your private practice online.
You'll be able to get back to doing what you love to do: helping people.
Create your own private practice website, without the headaches.
As a reminder here's what you'll get when you enroll:
As soon as you purchase, you will get immediate access (via user name and password) to The Create My Therapy Website Toolbox.
This includes lifetime access and login 24/7 to the following: (it is all digital + downloadable so you can login to access the content or download the course and take it on the go with you)
6 easy to follow, step-by-step modules

Screen recordings to look over my shoulder as I teach

4 live group support sessions

8 downloadable worksheets and checklists to help build your website faster

6 exclusive launch bonuses including the Facebook group and pre-built website templates

Content is available in video + slides (.MOV) and slides (.PDF)


30 day money back guarantee
Your Instructor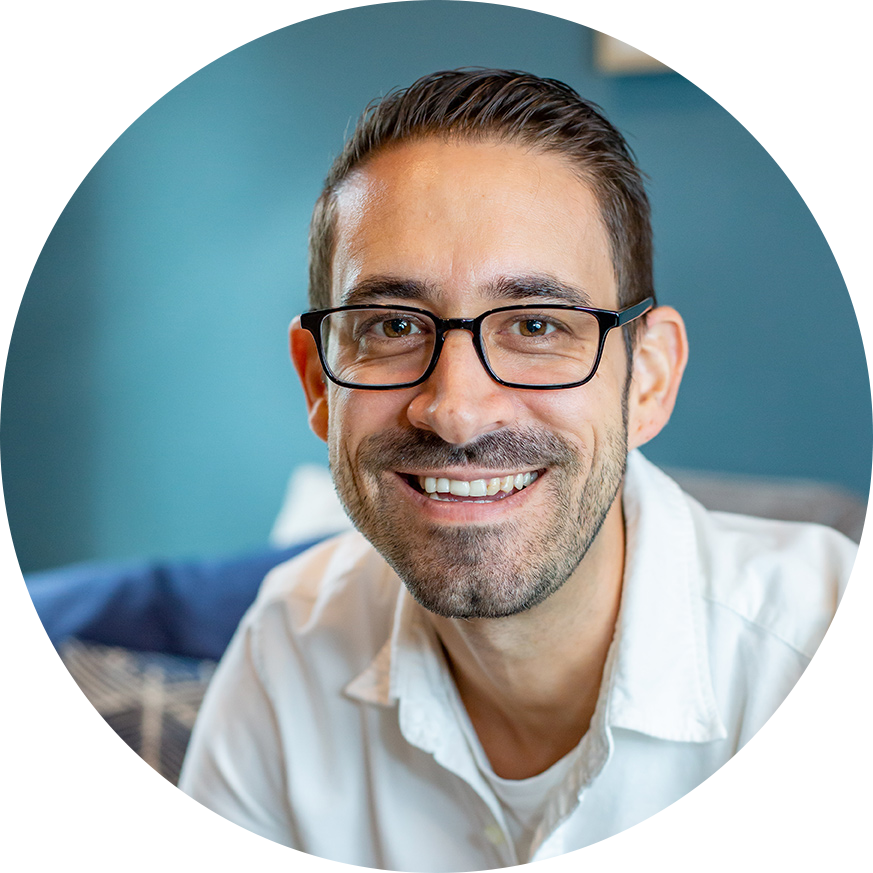 Founder of Create My Therapist Website and Private Practice Elevation. My team and I help therapists and private practice owners increase their visibility and attract more clients through elevated website design and SEO services.
When my wife was first starting her private practice back in 2011, I jumped into action and built her website using WordPress. We saw first-hand how important it was to have the right kind of content on her website in order to get her ideal clients to show up to it month after month.
So it became my mission to help other practitioners do the same with their own websites, providing simple tools and training to market a practice online and fill up their calendar with clients they love.
At Private Practice Elevation, we imagine a world where every private practice owner can reach the clients they love, expand their impact and build the business and life of their dreams. When our clients succeed, they can help even more people who need mental health services.
Because of that, I belive our work can literally help save lives.
Featured on



You've been looking for the solution that saves you time and money but still leaves you with a gorgeous, functional, modern website
Everyone's situation is a little bit different and of course I can't guarantee the same results for everyone, but I can give you the exact blueprint that has gotten my clients success, along with all the tools, strategies and step-by-step guidance along the way.
With that being said, this course is right for you if:
You've been trying to build a private practice for a while but find it's difficult to get clients without a modern, functional, attractive, targeted website and have no clue how to build one
You're just starting out in private practice and you know you need a website but estimates to have one built are way too expensive for you at this time, so you need some guidance on how to do it yourself
You've wanted to create your own website but got tired, frustrated and overwhelmed by taking on the process alone
You want to create an awesome website, but fear due to lack of technical know-how is getting in the way
You have a real desire to learn and implement and are not afraid to put in the work required to create your own website and take charge of your online destiny
This course is DEFINITELY not for you if:
You are expecting overnight results with very little work or effort involved. While I lay out the entire website creation process for you, I cannot do the work for you. I can give you guidance and strategies on how to create web pages, but I can't write your copy or blog posts. I can, however, save you hours of time by giving you the entire system, which is another benefit to this course.
You're not nice and have a bad attitude. This course is for folks who want to work together to push each other forward into website and private practice success. If you don't want to play nice and can't give and receive feedback you may want to go elsewhere.
You already have a website for your practice and are just in need of private practice marketing advice. While I touch on some marketing tips, like SEO and social media, this course's main focus is the website building process. If you just want to learn marketing for a private practice, there's tons of other folks out there who can teach it far better than I can.
This course is closed for enrollment.
Frequently Asked Questions
When does the course start and finish?
The course starts now and never ends! It is a completely self-paced online course - you decide when you start and when you finish.
What if I already have hosting/domain name? Is this course still for me?
This course is for anyone in private practice starting out with WordPress. While this course starts with the process of setting up a hosting account and a domain name, you can certainly use the hosting account or domain you already own. You would begin the course by installing WordPress and choosing a theme. If you own a domain you want to use with your new website, I'll give you some resources to help you link up your domain name to your hosting account once your website is complete.
What is the investment?
You've got 2 options when it comes to payment: A one-time payment of $497, or 6 monthly payments of $89 (one payment today of $89, then five more monthly payments of $89)
Will there be anything else I need to purchase in order to create my website?
This course gives you all the instruction you'll need to strategically build your website. But in order to build your website, you'll need you're own hosting account and domain name. The hosting service you choose is up to you, so cost may vary, but generally will run about $3.99/month and up. The only other requirement to create your website is a WordPress theme. In this course, we'll focus on the theme I recommend the most: Divi. The Divi user license costs $89/year and is worth every penny.
How long do I have access to the course?
How does lifetime access sound? After enrolling, you have unlimited access to this course for as long as you like - across any and all devices you own.
What is the refund policy?
I've invested hundreds of hours of blood, sweat, and tears into The Create My Therapist Website Toolbox, along with thousands of my own dollars and over 15 years of website-building experience in order to deliver a quality product. But I do understand that some people may not appreciate what I've created, or it may just not be a right for you. That is why I'm offering 30 days to see if the course is right for you. If the program is not a good fit, just let me know so I can refund your money immediately.
If I choose the payment plan and get started for just $89, do I have access to the entire course, or just a portion until I make all my payments?
When you choose the payment plan of 6 monthly payments at $89 you will get access to the entire course, bonuses and resources. All of it. I want to see you get started on your website, so I trust you'll follow through with the payments as you go through the course and kick online butt.
You said the course is step-by-step, is it really step-by-step?
It sure is! It is a literal "do this then that" scenario. Each module builds on the one before it to walk you through having no website to having a killer website and being able to create your own content whenever you like and promote it online. I give you a lesson (with slides) and then have you "look over my shoulder" with screencasts as I execute the actions discussed in each lesson. This way you can see exactly what I'm talking about, where to click, and what's what.
What if I have a question that was not addressed on this list or on any of your other marketing material?
You can email
[email protected]
with any questions and I'll do my best to answer them

"Before joining the CMTW Toolbox, I had paid LOTS of money over the years to a large therapist website provider. Even though I paid a high monthly fee to host my website, the site never really reflected me. No matter how I tried to tweak it, I never actually liked my old website. It took tons of time and frustration just to make lackluster changes. The result was still an outdated, boring website.
Although at first I was intimidated to try to build my own website, Daniel's course kept me organized, helped me manage my overwhelm and gave me the confidence I needed to launch a fantastic WordPress website that really reflects who I am as a professional.
I finally have a website that feels more like me and introduces me and my practice to my ideal potential clients in a way that authentically connects with them. It helps develop a relationship with clients even before we've had a chance to talk.
It's worked so well I've recently had to shut down my 'Schedule An Appointment' button on the website because so many new clients are scheduling with me that I'm running out of room for my current clients!
This course has definitely paid off for me, and I'm excited to keep learning!"
- Dr. Beth Schmit, Ph.D., Licensed Psychologist, Portland Oregon
This course is closed for enrollment.